Teku is the server and financial manager of Anticraft and is one of three owners, along with bmullen and theantimother.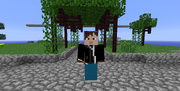 Like the other owners there is not much known about Teku. He likes fire, cats and setting things on fire while being a cat. He has built a few things around Anticraft but mostly spends his time fixing/breaking the server.
Edit
You may also know him as FireTeku, as he sometimes changes his nickname to that.
Community content is available under
CC-BY-SA
unless otherwise noted.